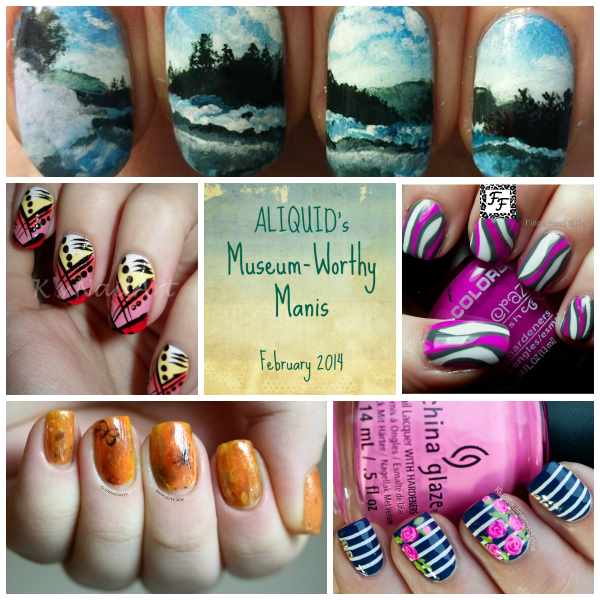 It's the last day of February, and I'm so looking forward to March and finally seeing our snow melt! Today I'm continuing with my Pinterest picks of the month by showing you some awesome nail art
I pinned in February
. Please go visit all of these amazing artists and like/follow/etc.!
1. Landscape (Based on a Photo by Carl Heilman) - Nails by CTC
I stumbled across
Nails by CTC's Facebook page
this month and was absolutely astounded by the work she does. Her page is just photo after photo of gorgeous art like this. I don't know how she manages to get such photorealistic art on such tiny canvasses! She deserves a million bajillion likes.

2. Abstract - K's NailArt
This one reminds me of a tropical sunset! The black details have such great movement--they feel like palm trees swaying in the breeze. I love that such a simple set of colors, lines and dots can result in something so interesting to look at.
Go read more at K's NailArt
!

3. Tri-Polish Challenge - FingerFood
Not only is
FingerFood
the organizer of the nail art challenge I'm doing right now, but she's an amazing nail artist too! This is the latest of many manis I've pinned from her. I'm a sucker for bright colors contrasting with neutrals, and I love the funky freeform patterns here. Not to mention I'm jealous of her perfect freehanding!

4. Amber Resin Nail Art - Manicurity
OK, this one's not brand new, but I discovered it this month while Googling for "amber". If these nails weren't attached to someone's fingers, I would have thought they were real amber! They're so painstakingly detailed but still manage to look natural. I'm so jealous, because I've always struggled to embrace randomness in my nail art. The bugs are a perfect finishing touch too!
Read more at Manicurity
!

5. Nautical Rose Nails - Paulina's Passions
Sometimes there's nothing like an old-fashioned floral mani. I love the contrast between the masculine nautical stripes and gold studs and the delicate pink roses. Everything about this mani is so clean; it just satisfies my constant craving for neatness!
Check it out at Paulina's Passions
!

Well, that's all from me for this month! I'll be back tomorrow with a new 2014 Blogger Challenge post!