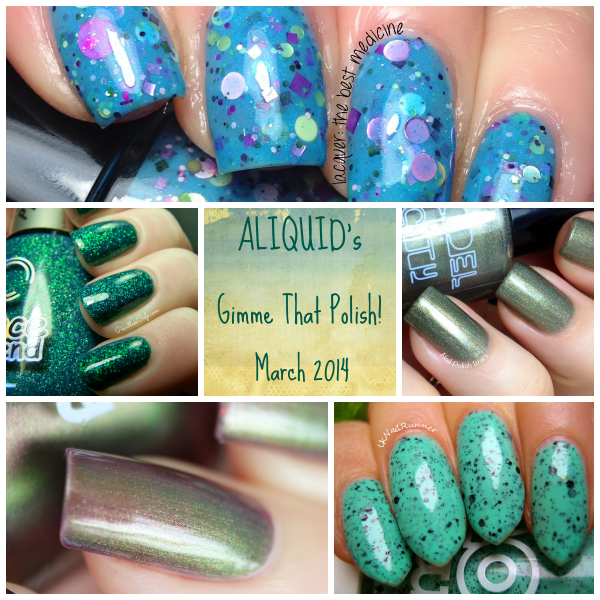 Hey everyone! March is coming to an end (already?!), and that means it's time for Gimme That Polish! These are my top five polishes I pinned on
my Pinterest wishlist
this month. I confess I've gotten really behind on blog reading lately, but I still managed to find five lemmings (I mean really, that's not hard)!
1. Jindie Nails - Anniversary Seaquins
This isn't a new polish, but it's new to me. You probably know by now that I love all crelly glitter polishes, and I'm drooling over the sheer amount and variety of glitters in this one! (
Jindie Nails shop
|
swatch by Lacquer is the Best Medicine
)
2. Dance Legend - Strutter
Dance Legend is a Russian brand that I've been admiring from afar for a long time--they do a lot of stuff you don't normally see in commercial brands over here! Check this one out...a green/teal with holo shimmer and green microflakies. An explosion of green! I have a feeling that if I was wearing this polish, I wouldn't be able to stop staring at my nails. (
Dance Legend shop with list of international stockists
|
swatch by Pointless Cafe
)
3. Model City - Nemesis
4. Polish Me Silly - Toe-tally Cosmic
I know it seems like there are a million of these super-multichrome polishes around lately, but this one is unique to me because it seems more "grown-up" thanks to that plum-brown color shift. (The colors get louder when layered over black.) It shifts to gold, green, blue and purple! (
Polish Me Silly shop
|
swatch by Nailz Craze
)
5. Models Own - Magpie
Ahhh speckled polishes! Yes they've been done before (I have a couple myself), but I still want them all. Models Own has a new collection of them called Speckled Eggs. I love the base color in this one, of course. I wish UK brands were easier to get! (
Models Own shop
, also available at
Ninja Polish
|
swatch by UKNailRunner
)
What'd you think of my top five? What polishes are you lusting after right now?