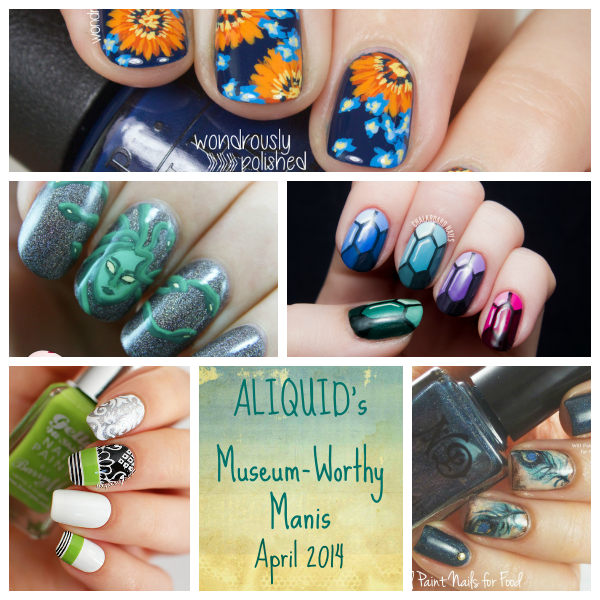 Hey there! Any fun weekend plans? I have lots of nail-polish-related business as usual!
Today I've got my (slightly belated) favorite nail art from April for you! All five are amazing freehand works of art! Don't forget to check out
my Pinterest
for more awesome nail art from around the web, and please visit the artists' posts to read more about their manis!
I adore this mani--the orange just pops against the blue background, and I love the semi-abstract style of the flowers. I also think she got amazing mileage from what looks like pretty simple techniques; I think I might even be able to recreate this mani decently! I'll need to give it a try sometime.
As a classics geek I have to love this mani. It's so creepy! Plus the freehanding is just flawless. I'm always jealous of PiggieLuv's skills!
Chalkboard Nails is one of those bloggers who not only does consistently beautiful nail art, but also makes her nail art accessible by providing tutorials for nearly everything. So you can visit
her site
to reproduce these stunning gemstone nails for yourself! My favorite bit is the little white "gleam" lines that make this mani look so realistic!
I was shocked to read that this mani was done entirely freehand--not even any striping tape! Now that's talent. I love the contrast of the baroque/damask patterns with the more modern clean stripes. Plus that green really pops against the neutral colors!
How beautiful are those feathers?? You must go read Meghan's
description of her process
for these nails--you can tell she has artistic training. I love how she captured the wispiness of the feathers perfectly!
I don't know about you, but looking at amazing nail art always inspires me to try something new! Are you inspired by any of these manis?